I'm Tufa, an adorable ginger girl born in 2011.  I had a memorable past with my master.  Me and my mates used to lived in a large beautiful garden and were so happy to run around; until one fine day my master decided that the place was too big for us and opted for a smaller place to liv
e.
Our house was then taken and occupied by other humans.  I was the only one to have been caught and taken to what is now our sanctuary.  I have no idea to what happened to my other mates, but surely my master could not afford to give them food any longer.
I have new friends now, a new garden to run around and voluteers that love me so much.   I spend the majority of my time watching the humans cleaning up the mess me and my others make.  I keep waiting until the magic moment arrives when they place down the shiny bowls and put the soft meat for us.  Its the highlight of our day where we literally throw ourselves on the food.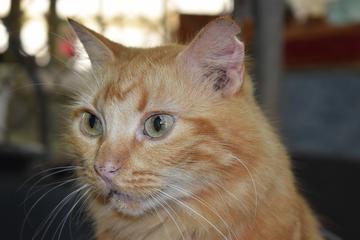 <! *******************************nav ***************************************** ->

<! ******************************* Hidden Contact form ***************************************** ->